Multimedia Designer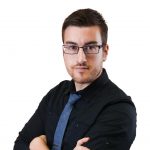 Boaz Crawford is the multimedia designer at the Freedom Foundation. He brings a high level of excellence to all pieces printed or digitally produced. He thoroughly enjoys the people and work at the Freedom Foundation and looks forward to the future.

A previous seven-year employee of the Church of Living Water in Olympia, Boaz has learned to effectively work with teams to create winning strategies for marketing. Having been married for 5 years to his wonderful wife, Treasa Crawford, he enjoys living life with her and their two children. Boaz also enjoys cooking, coffee and photography.
Sorry, there are no posts found on this page. Feel free to contact website administrator regarding this issue.