Litigation Counsel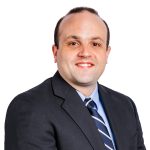 Robert Bouvatte was born in St. Louis, Missouri, and has spent most of his life on the East Coast. Before joining the Foundation, Bob practiced law for nearly a decade in South Florida as a commercial litigator. He and his family moved west in 2018, to pursue new adventures, escape the heat, and enjoy all the Pacific Northwest has to offer. Bob now works from our Olympia, WA, office, and is licensed to practice in Washington, Florida, most of the federal district courts in those states, the Eleventh Circuit Court of Appeals and the Federal Circuit Court of Appeals.

When not advancing the cause of liberty, Bob spends a great deal of time exploring the Great Outdoors by foot, bike, car and otherwise. You can also occasionally catch him in Seattle, at a Sounders game or one of the Puget Sound area's fine wineries.
Sorry, there are no posts found on this page. Feel free to contact website administrator regarding this issue.