Litigation Counsel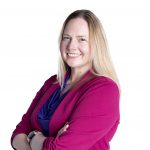 Karin Sweigart serves as California Counsel for the Freedom Foundation. Prior to joining the Freedom Foundation, she served as Deputy General Counsel and Director of External Relations for the Fairness Center, a nonprofit law firm representing those harmed by public sector union abuse. Additionally, she spent nearly a decade in Washington DC as Legislative Counsel for Congressman Dan Lungren and the Committee on House Administration. Karin is a graduate of University of St. Thomas School of Law in Minneapolis, MN, and played basketball while earning her undergraduate degree at Fordham University in the Bronx, NY.
In addition to her role at the Freedom Foundation, Karin currently serves as an Adjunct Professor at Dickinson School of Law and a legal writing consultant for several law firms. She is barred in California and Pennsylvania.
Karin is a California native pleased to once again be serving her home state. Outside of work, Karin enjoys spending time with her two children and husband, doing home improvement projects, following painting tutorials on youtube, and attempting to relive her glory days on the basketball court at the local gym.