This is the second in a three-part series considering the justifications, costs, and alternatives to continued unjustifiable school closures due to COVID-19.
Thousands of students across the country returning for their second year of elementary school, college or graduate school will have never even seen the inside of a classroom at their respective institutions.
Now with the rise of the so-called "Delta variant" of COVID-19 and the renewed threat of public-school closures in exchange for "ZOOM school" (the apparent preference of union bosses and their members who would rather stay home instead of fully doing their jobs), it is helpful to consider what has already been lost to an entire generation of Americans.
Several recently published studies tell the story in disturbing detail — increased mental health consequences, substance abuse, decreased academic achievement and even the loss of life.
Direct links have been drawn between COVID-19 school closures, and the resulting isolation, and increased feelings of depression and anxiety, which linger even after kids are once again allowed to leave their homes.
"Loneliness is the painful, emotional experience of a discrepancy between actual and desired social contact," researchers note, adding that "(T)here are well-established links between loneliness and mental health."
The increase of mental health conditions post-school lockdowns is revealed through the following data: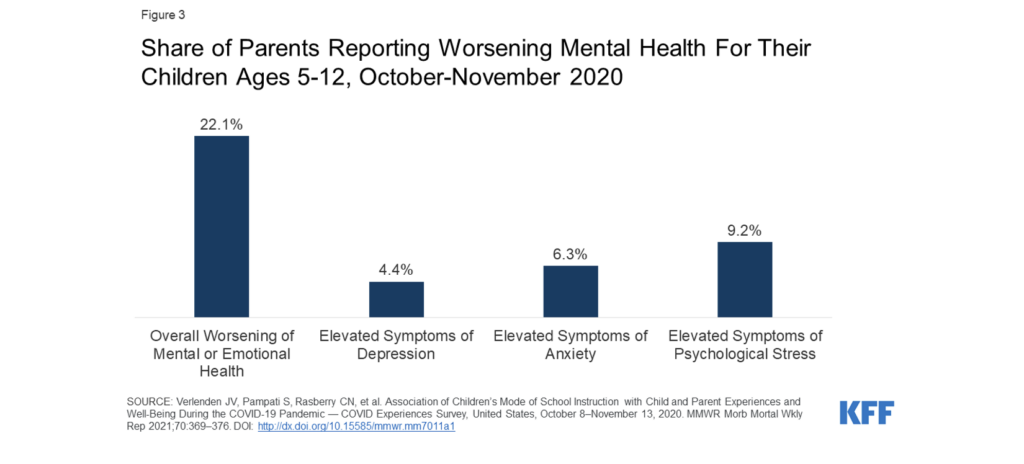 Substance abuse is also on the rise among children locked inside, away from school and their peers due to overblown COVID-19 fears. Specifically, solitary as opposed to social substance abuse has increased dramatically with America's youth.
A recent study notes that "When substance use begins at younger ages, it is more likely to persist into adulthood and increase the risk of addiction."
Understandably, academic achievement has been harmed by these negative trends. According to one analysis, "(R)eturning students likely started school this fall with approximately 63 percent to 68 percent of the typical annual learning gains in reading and 37 percent to 50 percent of the typical annual learning gains in math."
Finally, one data set shows that 2020 school closures were even associated with a measurable loss of life for American students. This study found that over 24.2 million children aged 5 to 11 years attended public schools that were closed during the 2020 school year due to COVID-19.
Due to the relationship between educational attainment and life expectancy, the researchers estimate that 13.8 million total years of could be life lost
Ultimately, the cost of COVID-19 school closures will be borne by students and their families, but the blame for these previous and potentially renewed closures falls squarely at the feet of knee-jerk bureaucrats and their bullying public union allies.
Both of which are more concerned with using COVID-19 as an excuse to gain concessions they otherwise could not get, no matter the cost to those just trying to get a quality education.