Clearly, Mike Huckabee "gets" the Freedom Foundation.
On Nov. 9, the two-term Arkansas governor, presidential candidate, Baptist minister, best-selling author and long-time Fox News host joined the Freedom Foundation along with hundreds of our supporters in Salem sounding like he'd spent years in the fight to free government employees from the tyranny of compulsory unionization.
"What a delight to be here with you celebrating the extraordinary accomplishment of putting money back into the pockets of the people who earned it in the first place," Huckabee said. "This isn't about busting unions. I don't understand why people think this is an anti-union movement. It simply isn't. It's a pro-freedom movement."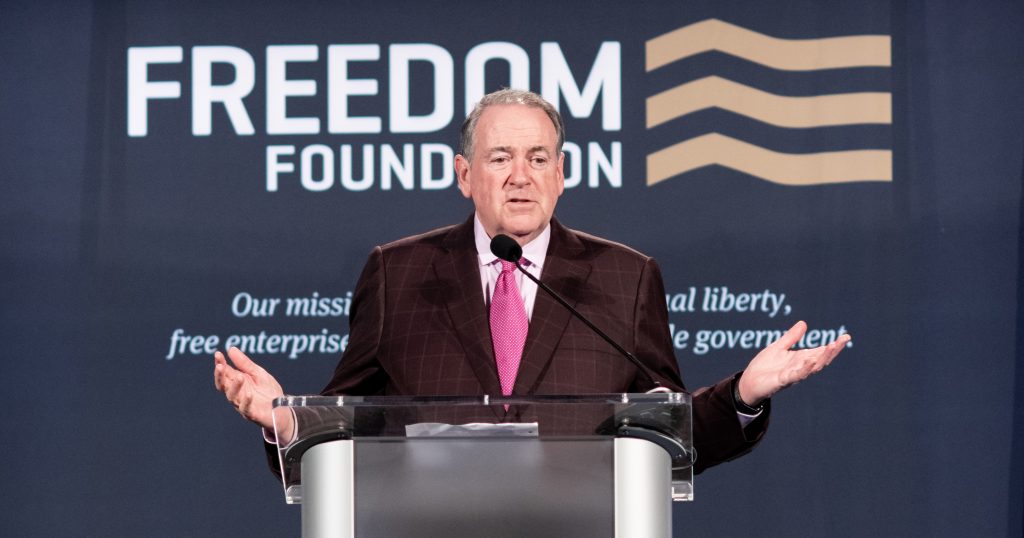 Huckabee shared the stage with fellow Fox News personality and former Freedom Foundation staffer Emma Meshell, Freedom Foundation National Director Aaron Withe, and along with American hero Alek Skarlatos, who in 2015 joined with two others to thwart and armed terrorist attack on a train traveling from Amsterdam to Brussels.
Withe was met with thunderous applause when he announced, "Over 60,000 workers on the west coast have left their unions — that's $50 million that's back in the pockets of workers and out of the union's radical political agenda."
That was wonderful news to all those inside the Salem Convention Center, but not so for the customary union-subsidized protest outside the facility.
What few of them there were, that is.
Compared with protests elsewhere in Oregon for previous banquets, this year's turnout was embarrassingly small. Gone was the giant inflatable rat and the circus parade-like floats and displays. In their place were less than 100 professional activists, many of whom were obviously paid by the union to attend.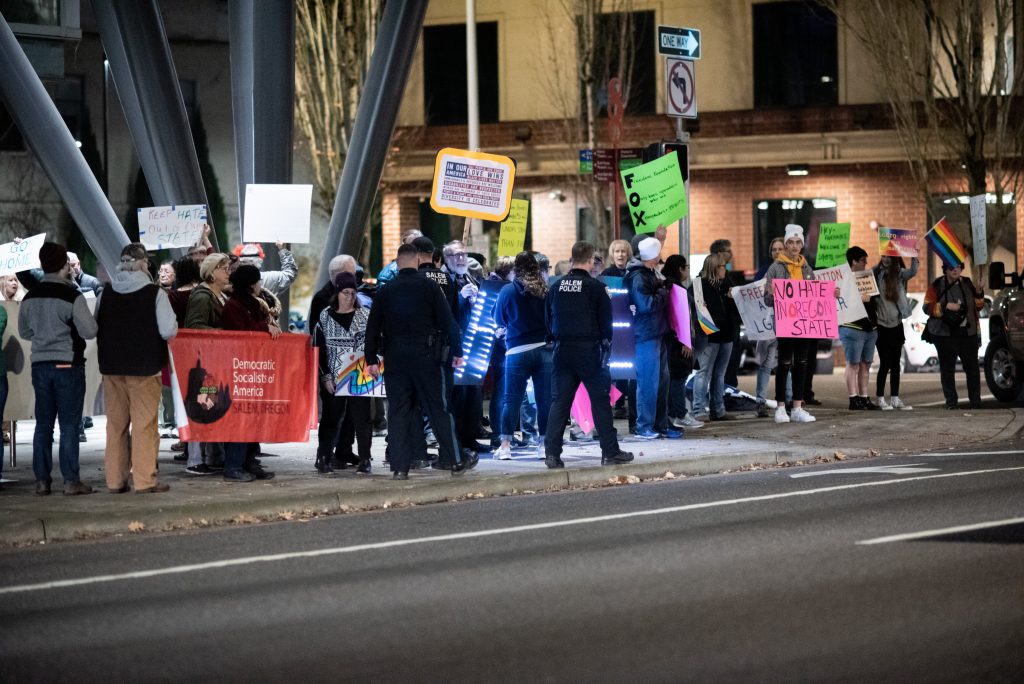 Meanwhile, the banquet was the largest in the history of the Freedom Foundation's four years in Oregon.
This is truly a reflection of the Freedom Foundation's effectiveness in freeing union workers in Oregon, dramatically decreasing government union size and coffers. We've literally taken the air out of their inflatable rat.
Huckabee concluded the event by encouraging attendees and thanking them for standing up to union bullies like the few outside.
"The work you're doing as the Freedom Foundation I find extraordinary," Huckabee said. "And the fact that you're doing it on the west coast is absolutely stunning. Those of you in this room represent the front lines of the fight when it comes to our genuine freedoms. I'm here tonight to thank you. I'm here tonight to encourage you. I'm here tonight to urge you to keep up the fight."
No worries on that score.