For years, the Freedom Foundation has been bringing holiday joy to government employees on the West Coast while infuriating the unions that exploit them by frequenting public office buildings to inform workers of their recently affirmed right to opt out of membership and dues.
And this year, in keeping with the organization's move this past summer to expand its outreach efforts into all 50 states, teams of canvassers attired as Santa and his helpers, will be making unannounced visits to government agencies all up and down the Eastern Seaboard.
The Freedom Foundation Santa's helpers want state, county and municipal workers to know about the U.S. Supreme Court's 2018 ruling in Janus v. AFSCME, which recognized that forcing public employees to financially support a union as a condition of employment is a violation of their First Amendment rights.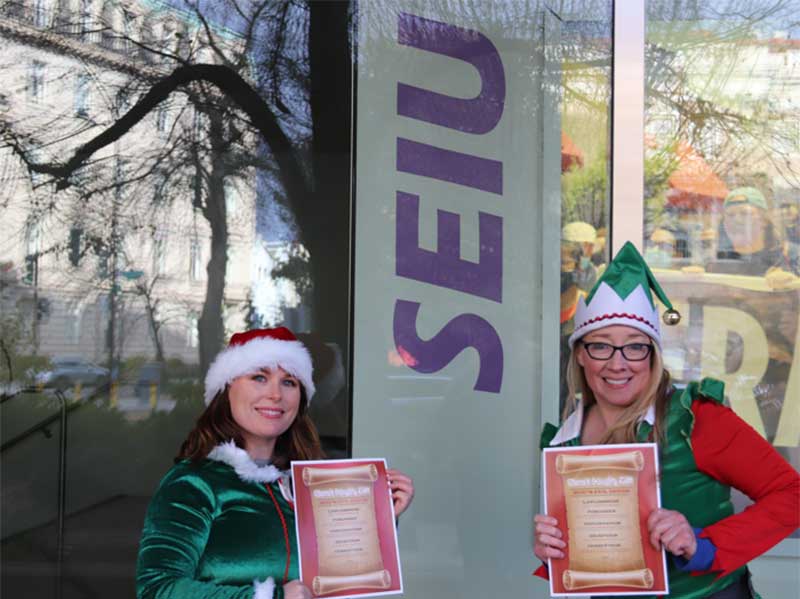 For the first time, the Freedom Foundation is sending Santa's helpers to the East Coast to spread the message that they can give themselves a Christmas present worth up to $1,000 or more by opting out of dues they probably don't want to pay anyway..
On a brisk late-November day in Virginia and Washington, D.C., Santa's Freedom Foundation elves, Ashley Varner and Erin Volz, paid an unexpected visit to Virginia County buildings and Federal Union Headquarters to bring them Santa's "Naughty Union List" and spread Christmas cheer of paycheck savings to the workers they claim to represent.
The Freedom Foundation team's first stop was the grand Loudoun County Building to warn the workers that SEIU has been up to no good and is on the top of Santa's Naughty Union List. Haste was to be made, because the executive board is set to vote to allow the workers to unionize on Dec. 7, and the workers need to understand they'll lose hundreds of their hard-earned dollars to the union with minimal gain.
SEIU has been perpetuating lawlessness by supporting efforts to defund our law enforcement, forging workers' signatures on membership agreements in multiple on-going racketeering cases and for giving workers' dues money to a partisan agenda many of them may not support.
Erin and Ashley found out, just in the nick of time, that Fairfax County workers, especially law enforcement, needed to be warned, and they were paid a visit, as well.
The next stop for freedom's little helpers was SEIU National Headquarters, where they left Santa's Naughty Union list as a warning to the grinchy union staff.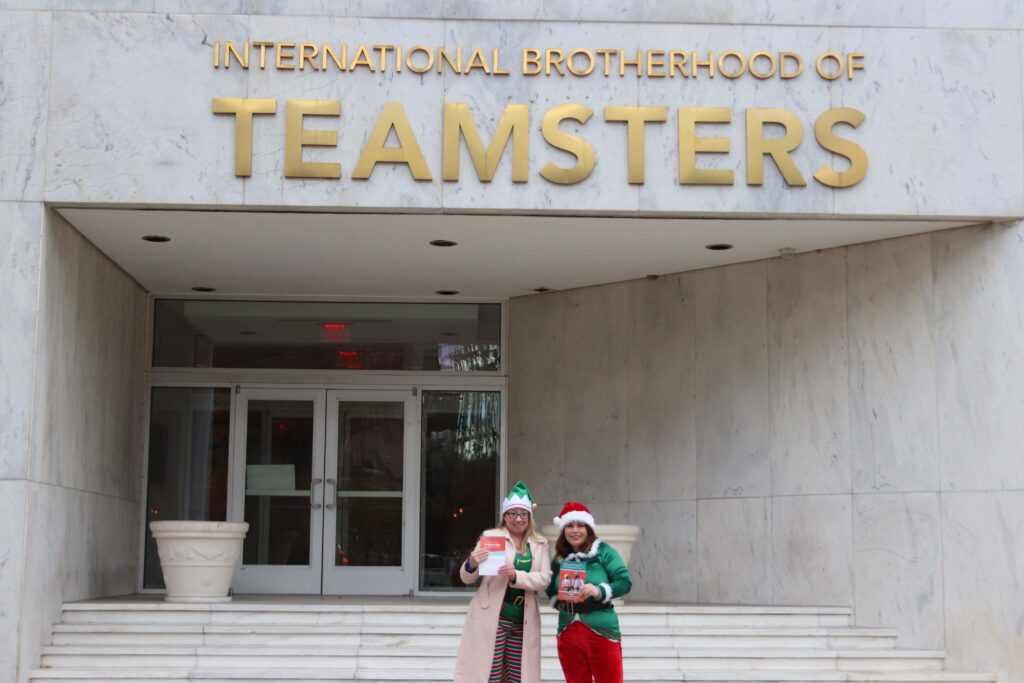 "Let's make sure they know Santa is watching out for the workers SEIU claims to represent," Varner encouraged the team, "and that deception and greediness have earned them a lump of coal in their stockings!"
"Let's go show the other guys that the Freedom Foundation has been keeping an eye on them, and let them know we're here to get their attention," Volz added.
Off they went to shed light on Santa's repeat offenders — Teamsters, AFSCME, LiUNA and AFL-CIO.
"The workers need to know that the hundreds, or thousands, of dollars in dues that are deducted each year from their paychecks," Volz said, "under the guise of 'representation,' comes to these huge buildings in Washington, D.C., and is distributed to divisive politicians, organizations and causes."
"These huge, private organizations," she explained, "are largely unaffected by the end results of their political and social meddling, while the workers suffer the consequences. This year, the Freedom Foundation will bring workers some Christmas cheer and help guide their money and constitutional freedoms back to them and away from the unions."