Everyone is so nice in Albany, New York!
At least that was the experience of the Freedom Foundation's Santa helpers on the fourth day of their Inaugural East Coast tour.
The first building we noticed as we approached the State Capitol Complex off the highway and pulled off for a parking spot, was none other than the NY AFL-CIO. The encounter was not the first on our journey, and it has become a joke to the extent that we had to stop and take a picture because we have literally ended up on the doorstep of one of the major unions' state headquarters in several of the state capitals we've visited (including Annapolis, MD and Trenton, NJ).
Perhaps it's intentional that we wind up nearly at the front door of major unions whenever we come near state capitol grounds.
But the unions' close and constant presence with state lawmakers only serves as a strong reminder of their stranglehold on state policy and the importance of OUR job at the Freedom Foundation to make sure public employees know they don't have to be bullied into supporting political agendas with which they disagree.
The New York State Capitol is currently closed to the public, as well as most of the buildings on the complex, so there weren't many people walking on the complex grounds, itself.
But we received honks and waves from drivers on the streets and people sheltering from the rain in bus stops.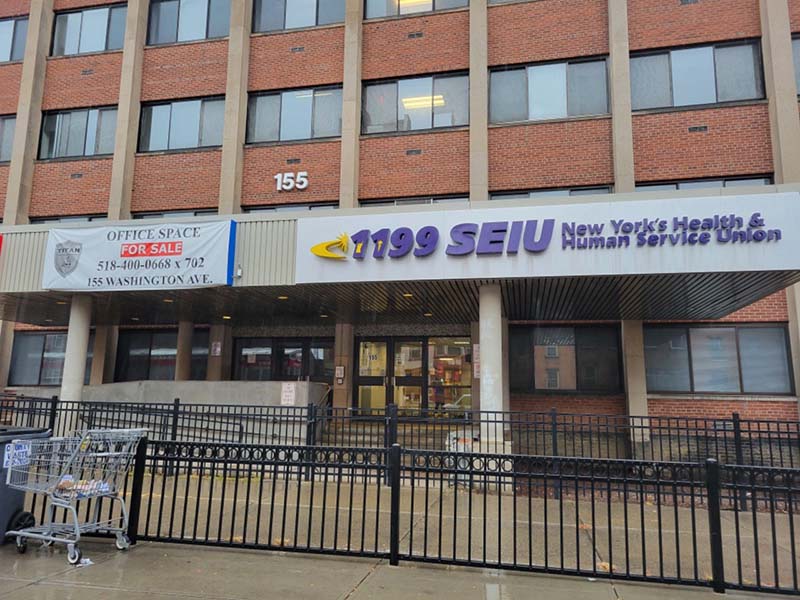 And we noticed several union headquarters within reasonable walking distance of the capital complex, so we thought we'd get in the shelter of the car and visit each of them and take a friendly picture, just in case they didn't believe we were actually coming to their state.
Newsflash. We are.