On its unintentionally hilarious website, the Northwest Accountability Project — a shadowy, union splinter group whose one and only employee is paid a six-figure salary to do nothing but trash the Freedom Foundation — includes this chilling description of what our canvassers are up to:
"Union members all across Oregon and Washington have reported incidences of Freedom Foundation staff visiting their workplaces unannounced and even coming right to the doorsteps of their homes to harass and intimidate them."
You'll note the blurb doesn't mention to whom the alleged perpetrators were reported — mostly because it isn't the police. Much to NWAP's dismay, you see, it isn't a crime to inform once-forcibly unionized workers about their newly affirmed Constitutional right to opt out.
And as for the tactics used to deliver this message, meet one of the intimidating characters being deployed as a Freedom Foundation canvasser:
TJ Mohammed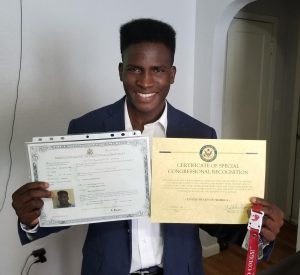 TJ and his family immigrated to the United States in 2012 from war-ravaged Sudan in East Africa, where they were victims of the violence in Darfur. After fleeing from Sudan, he lived in Kenya for five years in a refugee camp before the United Nations resettled them in this country.
On Tuesday, TJ celebrated officially becoming a U.S. citizen after his citizenship ceremony.
Along the way, he graduated from Spokane's West Valley High School and earned his associates degree from Spokane Community College as a Running Start student. He will start classes at Washington State University in the fall.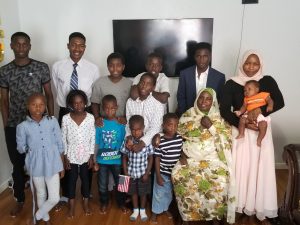 While at SCC, TJ's penchant for politics was in clear evidence.
He served as the director of Legislative Affairs on SCC's student body government and is a member of the Washington Community and Technical College Student Association. He was a member of the school's student conduct board and served as an associate justice in the student judicial branch of student government.
TJ was chosen to speak at SCC graduation.
Additionally, he earned the Spirit of the Community Award for his dedicated service to Mission Outreach, a program that helped him and his family when he first came to Spokane. Last summer, he logged more than 200 hours of service for this organization and has also volunteered for Habitat for Humanity, the Salvation Army and many others.
Most recently, he was recognized with the President's Civic Leadership Award and was a finalist for the Governor's Students Serving Washington Award.
At WSU, he plans to enroll in ROTC and double-major in political science and criminal justice. He hopes to eventually work for the FBI.
In the meantime, he is working as a canvasser with the Freedom Foundation to inform public employees of their right to opt out of union dues and still keep their job in the wake of the U.S. Supreme Court's ruling this summer in Janus v. AFSCME.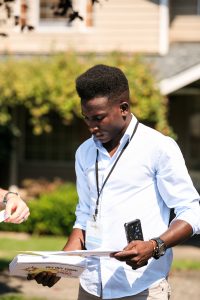 The issue isn't politics, he stresses. It's individual liberty and the freedom to choose.
"I'm passionate about politics and about non-partisanship," he said. "I hate the partisan divide, and the Freedom Foundation simply works toward individual liberty, which isn't partisan."
If this is who the unions feel threatened by, it tells you far more about them than it does the Freedom Foundation.