Newspapers in Washington's two largest cities published features during January about the Freedom Foundation's latest outreach effort to the state's teachers, and the appearance of both within days of each other simply proves the Freedom Foundation story is too big to ignore.
The Seattle Times' piece ran first, on Jan. 2, under the headline, "Mailer urges Washington state teachers to stop paying their union dues and save up to $1,200," and accompanied, helpfully by, a photo of the flyer.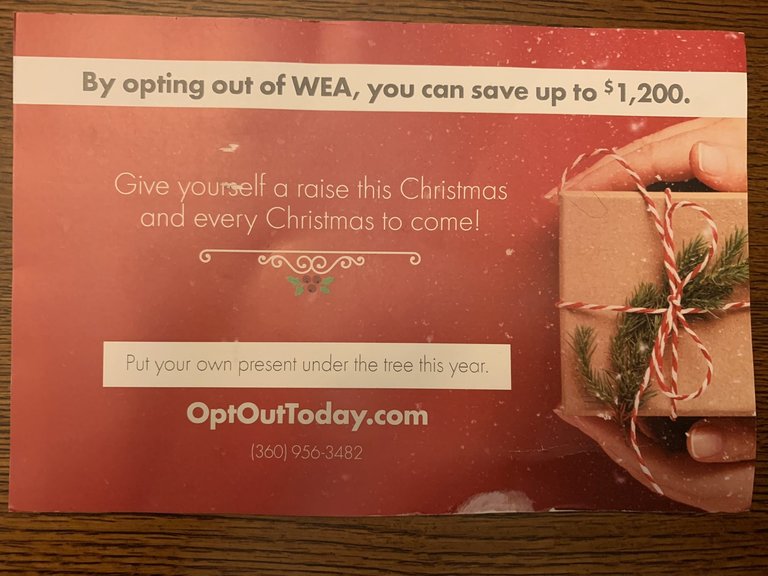 Reporter Dahlia Bazzazz included quotes from the Washington Education Association and a pro-union teacher.
The Freedom Foundation was ably represented, though.
"Reached by phone last week, Jami Lund, the (Freedom) Foundation's senior policy analyst, said the communications are intended to place a check on the power of unions, keep them accountable and prevent them from 'overcharging' their members. He added that some public employees, including those who are conservative, don't want to fund union activities they don't agree with and feel pressured to be 'in lockstep.' "
Bazzazz noted the mailing piece wasn't the organization's first effort to contact teachers in particular or public employees in general:
"The mailers are part of a wider and litigious political battle between the state's labor unions and the Freedom Foundation, an Olympia-based conservative think tank, whose website says the group is 'working to reverse the stranglehold government unions have' on state and local policy. Using information gleaned from public records requests, the (Freedom) Foundation has also knocked on doors and sent emails to public employees notifying them of their right to opt out of paying dues under a 2018 ruling from the U.S. Supreme Court in Janus v. AFSCME."
Meanwhile, a story headlined, "Flyers urge teachers in Spokane, statewide to opt out of union," was published a week later in Spokane's Spokesman-Journal, referencing the Seattle Times story and Lund's comments.
Reporter Jim Allen also spoke with Spokane Education President Jeremy Shay, who said, as a teacher, he usually simply tosses the mailers in the trash but, as leader of his union, "fields occasional questions from new teachers about the flyers."
It would be illuminating to hear Shay's definition of the word "occasional," and even more so to know what those questions were and how he answered them.
The outreach effort profiled in both papers was just a part of a much larger, and highly successful, strategy to contact government employees over the holiday season. Within days of receiving emails, mail pieces, etc., hundreds — including teachers — took the flyer's advice and gave themselves a well-deserved Christmas present by cutting union dues from their list of payroll deductions every month.