Leanne Kunze, the executive director of the Washington Federation of State Employees/AFSCME Council 28 (WFSE) — the largest union of state employees in Washington — was terminated by the union's executive board on June 24, 2022. Seven weeks later, however, the union does not appear to have announced or explained the reason for her termination to its members or informed them about what comes next.
The only public confirmation of Kunze's firing exists on WFSE's website. The contents of Kunze's bio were recently scrubbed. The page now lists Kurt Spiegel as executive director, noting only that he was "selected by the AFSCME Council 28 (WFSE) Executive Board to serve as the union's executive director in June of 2022."
Kunze's tenure as executive director lasted only two-and-a-half years, during which she presided over steady membership declines driven by the U.S. Supreme Court's Janus v. AFSCME decision and the Freedom Foundation's educational outreach to educate public employees of their right to refrain from union membership.
WFSE's fifth executive director and the first woman to serve in the role, Kunze took the reins in January 2020 following the retirement of her predecessor, Greg Devereux, who had helmed the union since 1994.
Following Kunze's termination, internal accounts paint a picture of a union in disarray. Reportedly, many of WFSE's senior leadership resigned or went on leave following Kunze's dismissal, leaving organizers and mid-level staff to muddle along on their own.
Spiegel's appointment as (presumably) interim executive director lends credence to the rumor.
According to WFSE's FY 2021 Form LM-2 on file with the U.S. Department of Labor—the most recent disclosure available—Spiegel previously worked as one of four field supervisors. He reported, presumably, to field services director Megan Parke.
In fact, judging by salaries and job titles, at least seven department heads appear to outrank Spiegel yet, for some reason, none of them were selected to serve as Kunze's temporary replacement.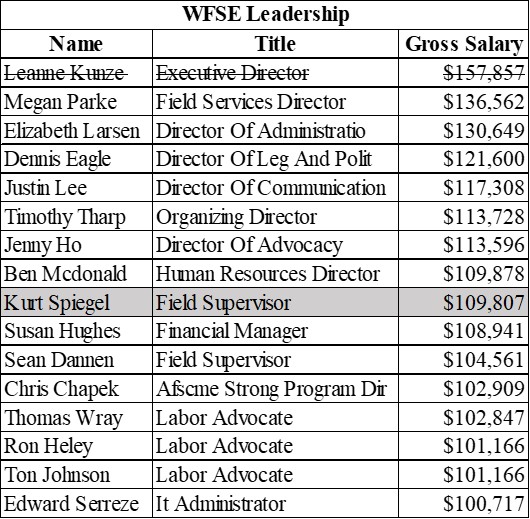 Reportedly, the situation has deteriorated so severely that AFSCME international president Lee Saunders recently flew in from Washington, D.C., to meet with WFSE's remaining staff and/or executive board in SeaTac about the situation, though this has not been publicly confirmed.
As far as the Freedom Foundation can tell, WFSE has yet to officially announce or account for Kunze's firing and the resulting fallout to its dwindling membership.
As of June 2018, just before Janus made union membership and dues payment optional on constitutional grounds, WFSE reported 43,290 dues payers and financial supporters. As of June 2021, that number had declined to 29,220.
Payroll data obtained by the Freedom Foundation from the Office of Financial Management shows that, as of June 2022, only 63.6 percent of WFSE-represented state agency employees paid dues. If the rumors are true, recent events aren't likely to help reverse this trend.
Update 8/19/2022:
The Freedom Foundation has obtained an email notice sent by WFSE to "Employers of WFSE-represented employees" on June 28 notifying them that:
On Friday, June 24, the WFSE Executive Board voted to initiate the separation of Executive Director Leanne Kunze without cause, requiring a one hundred and eighty (180) day advance notice of intent. Kunze will continue to serve in her role, and we ask that you carry on coordination with her in her official capacity as the chief administrator of the organization and its operations until further notice.
The notice is noteworthy for two reasons. First, while WFSE notified state labor relations personnel almost immediately of Kunze's termination, it still hasn't notified its own members. And secondly, according to the notice, Kunze should have continued serving as executive director until December 21, 2022. However, as noted above, Kurt Spiegel apparently assumed that role sometime in late July or early August, suggesting that additional events transpired after the June 28 notice to hasten Kunze's departure.
Update 8/25/2022:
Yesterday, WFSE posted an article on its website profiling Spiegel and describing him as the "interim executive director." The union still has offered no explanation for Kunze's firing or why Spiegel, a mid-level employee, was named to replace her.