Randi Weingarten, president of the American Federation of Teachers, has made a career of letting her mouth wander aimlessly through the minefield of public opinion.
And for the most part, she's gotten away with it by articulating pretty much what the enabling mainstream media was dying to say anyway. But Madam President's latest unforced error could wind up costing the members of her union dearly when she has to buy her way out of legal jeopardy with their dues dollars.
During a characteristically softball April 23 interview on MSNBC, Weingarten couldn't resist chiming in about a speech delivered a few weeks earlier at Hillsdale College by Christopher Rufo, a writer for the City Journal and fellow at the Manhattan Institute.
Weingarten accused Rufo of lying about the state of modern education in order to gin up anger toward teachers and, more directly, teachers' unions. Her comments echoed an earlier post she had made on Twitter.
She wrote:
"Rufo himself said, 'To get to universal school choice, you really need to operate from a premise of universal public school distrust. To sow & grow that distrust, you have to create your own narrative frame, & have to be brutal & ruthless in pursuing it. Let's be clear about what Rufo is saying. This isn't about helping kids. This is about sowing distrust and chaos."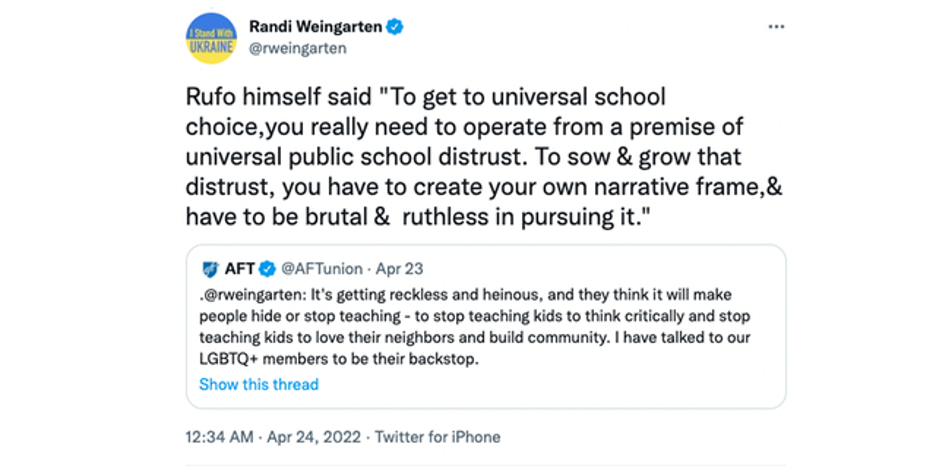 On April 25, Rufo fired back, claiming Weingarten misrepresented his remarks by splicing together two separate quotes. He tweeted:
"Randi combines two unrelated lines and fabricates the words 'to sow & grow that distrust' to make it seem sinister. In the speech, I say the opposite — the 'teachers unions' have created distrust."
Rufo threatened to take legal action unless Weingarten admits her deceit and offers an apology.
Presumably he isn't holding his breath while he waits.
It isn't clear how her members benefit from Weingarten engaging in a war of words rather than attending to the day-to-day responsibilities of workplace representation. On the other hand, for a refreshing change the AFT president's latest kerfuffle has at least a passing acquaintance with education.
That isn't aways the case. For example:
There's more — much more — but you get the idea. For Randi Weingarten, the presidency of AFT is little more than a bully pulpit from which to fulminate about her radical leftist agenda. More to the point, she sees the organization's $300 million budget as a slush fund she can use to underwrite her preferred candidates and causes.
And she's not alone. The even-larger National Education Association is just as politically active, as are literally dozens of other public employee unions with names like SEIU, AFSCME and the Teamsters that claim to have the best interests of their members at heart but are, in practice, simply the funding arm of the Democratic Party.
The U.S. Supreme Court, in 2018, issued a ruling banning mandatory union membership and dues in the government workplace, and in the years since, hundreds of thousands have successfully opted out. But they've done so over the determined resistance of the very union they're paying to provide service, not subjugation.
Unions like the American Federation of Teachers see giving conscripted government employees the freedom to make their own choices about representation as an existential threat. And thanks to the benighted leadership of despots like Randi Weingarten, they absolutely should.