The Freedom Foundation is on government unions'  mind morning, noon and night – and apparently holidays are no exception.
On Wednesday – Halloween – the Oregon affiliate of the American Federation of State, County and Municipal Employees (AFSCME) posted this on their Facebook page: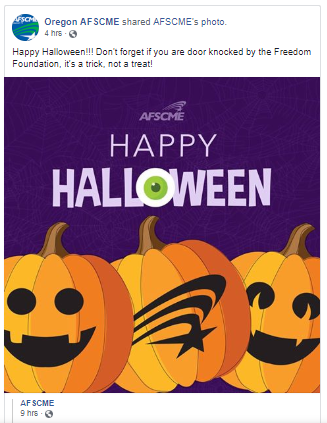 As always, the thought of Freedom Foundation canvassers telling their members the truth about their ability to cancel their union memebership makes union leaders react like vampires in the daylight. To prevent that happening, AFSCME is resorting to its familiar scare tactics.
SEIU 99 sent an email to its membership on Wednesday declaring, "A world without unions … now that's scary."
The Freedom Foundation's post-Janus outreach has the unions terror-stricken. What's truly scary to the unions is that people will find out about their rights and be free from union coercion.
Freedom Foundation canvassers go door-to-door up and down the west coast, spreading the news that public workers have a First Amendment right to object to forced union fees under a recent Supreme Court decision, Janus v. AFSCME.
Unions would prefer to keep their members in the dark and prevent them from learning about their rights, even if it takes deception or threats. The real trickery is coming from unions.
It's Freedom Foundation's goal to spread the word to every public worker about their right to object to union membership and dues. So far, 25,000 public servants have opted out with our help.
Thanks for thinking of the Freedom Foundation on Halloween, Oregon AFSCME.