Yesterday afternoon, Gov. Jay Inslee signed SB 6199, which directs the Department of Social and Health Services (DSHS) to contract with a private company to administer the home care system for Medicaid recipients in Washington.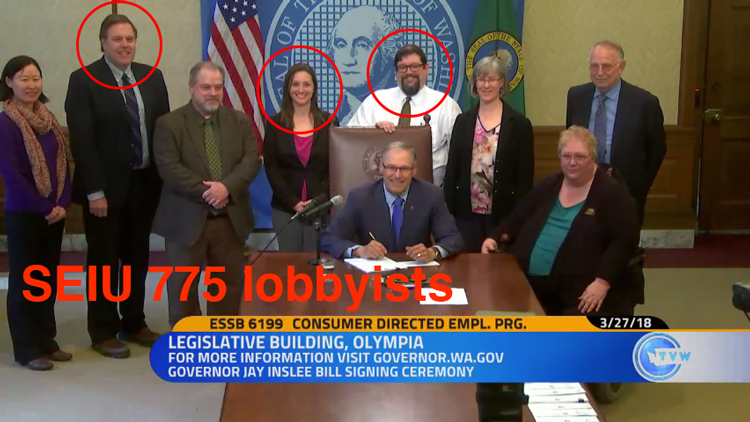 The move sets the stage for the union representing the state's 36,000 individual provider home care aides (IPs), SEIU 775, to force all caregivers to again pay union dues as a condition of serving Medicaid recipients. Under current state law, IPs contract with the state to serve specific Medicaid clients and are considered public employees only for the purposes of unionization. The U.S. Supreme Court's 2014 decision in Harris v. Quinn established that, under this arrangement, caregivers could not be forced to financially support a union against their will.
About 4,000 IPs in any given month do not pay SEIU 775 dues, costing the union about $2.8 million per year.
However, by making IPs "employees" of a private company, SEIU and union-backed policymakers seek to subject caregivers to the federal National Labor Relations Act, which would arguably remove caregivers' Harris protections and allow SEIU 775 to again force IPs to pay union dues and fees.
For more information and background on the bill, see the Freedom Foundation's recent op-ed on SB 6199 in The Seattle Times.
The Freedom Foundation released the following statement in response to Gov. Inslee signing SB 6199:
It is disappointing, though not surprising, to see Gov. Inslee prioritize his special interest campaign donors above the caregivers and taxpayers of Washington. By the time he signed SB 6199, more than 1,000 individual providers had contacted the governor's office asking him to veto the bill. Though their voices have been ignored by the majority party in the Legislature and now the governor, the Freedom Foundation remains committed to protecting caregivers' First Amendment rights as recognized by the U.S. Supreme Court and making sure SEIU's exploitation of caregivers comes to an end. SB 6199 will take effect over years, not days, and we anticipate it will be subject to numerous legal challenges along the way. This fight is far from over.
Even after the bill was signed into law, its supporters continue to contradict themselves.
SEIU 775's secretary-treasurer told the Tacoma News Tribune this week that, "The state passed the bill for a 'completely unrelated set of reasons' other than its union implications." In the same interview, however, he admitted that making it so that "workers can't opt out" of financially supporting the union "would be 'a good thing' that would make SEIU a 'stronger union.'" Glickman made his contempt for caregivers' constitutional rights clear by further telling the reporter he didn't see anything wrong with "states legislating their values even if those values conflict with Supreme Court decisions."
One of labor's strongest allies in Olympia, Sen. Karen Keiser (D-Kent), took issue with the Tacoma News Tribune's story about SB 6199's passage, tweeting to the reporter who wrote it: "Fact: Union dues do not bankroll overt political action. Fact: DSHS requested this bill, not any union."
Both of these "facts" are anything but correct. As the communications director for the Washington State Labor Council for 25 years, Sen. Keiser undoubtedly knows better.
The undeniable reality is that SEIU 775 spends a great deal of the dues it collects on "overt political action." A few examples:
These are just a few examples from a single union in a single year.
Sen. Keiser's second claim isn't much better. While it is technically true that DSHS formally "requested" SB 6199, that does not mean SEIU 775 wasn't the driving force behind the bill. In fact, SEIU 775 requested that Gov. Inslee support legislation to privatize the caregiver workforce as far back as June 2014 as a way to help the union skirt having to comply with the Harris decision. 2018 was just the first year since Harris that Democrats had complete control of the state Legislature and could reward their campaign donors with SB 6199 at the expense of caregivers and taxpayers. Freedom Foundation analysis of state campaign finance records indicates that Gov. Inslee benefited from about $2.4 million in campaign spending by SEIU affiliates between his 2012 and 2016 elections.
But at the end of the day, union executives and too many of their legislative allies (more than a few of whom worked for unions professionally) have adopted the view that the ends justify the means. As SEIU 775's president told The Seattle Times earlier this year when questioned about SB 6199, "Anything that allows for stronger unions… is obviously good in and of itself…"
It's a morally bankrupt, but politically potent, philosophy.