The Freedom Foundation has a long history of taking action to turn its ideas into results. But for those actions to be successful, we've learned that very often they must be defended in court.
Last summer, for example, we came up with the idea of having Freedom Foundation canvassers visit government office buildings around the state on the first anniversary of the U.S. Supreme Court's June 2018 ruling in Janus v. AFSCME, which recognized the right of public employees to decline union membership and refuse to pay dues or fees.
However, before doing so, we were careful to contact the public agencies involved to ask about policies and permits. In the case of the Washington State Department of Labor and Industries, we carefully examined the applicable regulations, and it was apparent no permit was necessary to stand in the public areas of the taxpayer-supported building in which L&I employees work and exercise our First Amendment rights to inform those employees about their First Amendment rights.
But the union representing these workers doesn't want its members educated, and the State is all too happy to oblige. Because the union wields more influence than we do over the site, Washington State Patrol troopers were ordered by Labor & Industries bureaucrats to ignore the law and expel our canvassers (forgetting that the union had previously occupied the same public area without a permit just months before).
The Freedom Foundation responded by filing a lawsuit in the U.S. Western District Court in Tacoma against L&I and its assistant Director of Human Resources, Heather Normoyle, for refusing to allow the Freedom Foundation to engage in protected First Amendment activities. Aside from kicking the Foundation's employees out of the building, state officials even prevented them from documenting these abuses of power with photographs! On that point, the complaint alleges: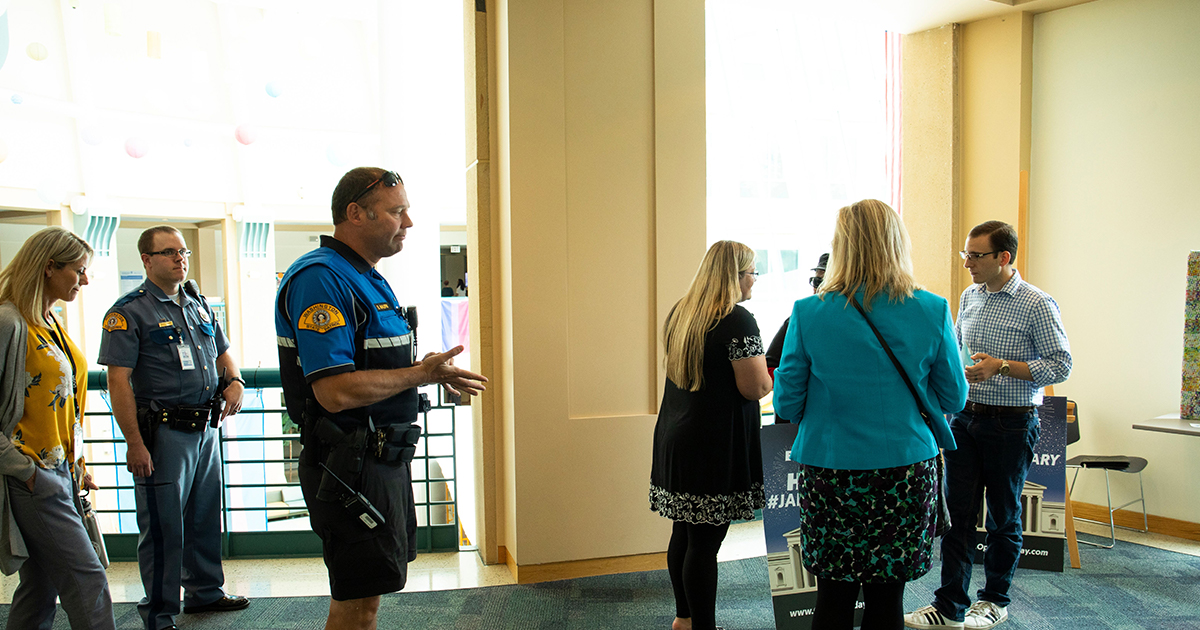 "One of the Washington State Patrol officers, Officer B. Maupin, heard that employee's camera snapping photographs and ordered the employee to stop taking pictures.
Not knowing what else to do, the Foundation's employee acceded to Officer Maupin's order to cease taking pictures of the scene.
Shortly thereafter, however, Officer Maupin believed (incorrectly) that the Foundation's employee had recommenced taking photographs and became incensed at same. The officer invaded the employee's personal space in a physically-intimidating manner, said "[s]eriously?," as if to question whether the employee was "seriously" disobeying his order, and reiterated his command by saying that "you can't just take pictures of people," or words of similar effect.
At that point, one of the onlookers chimed in to say that "yes you can [take photographs of public officials engaged in performing their duties]."
L&I is not the only Washington State Agency to deny the Freedom Foundation's constitutional right to interact with public employees in public places, nor are they the first (or likely the last) to be sued over similar behavior.
Situations like this remind us "In those wretched countries where a man cannot call his tongue his own, he can scarce call anything his own. Whoever would overthrow the liberty of a nation must begin by subduing the freeness of speech; a thing terrible to publick traytors."Benjamin Franklin
Please stand with us, and support our fight against union and government abuse of power. Because if we don't do it, who will?
With your help, we will continue fighting big government and union bosses that get in the way of our plans to inform public employees across the nation about their constitutional rights to opt-out of paying union dues.
For more information, please contact Robert Bouvatte, our Litigation Counsel, who is handling the case against Labor & Industries.
Related Stories and litigation to first amendment violations against the Freedom Foundation:
State agency Scrooge violates Santa's First Amendment rights