For the third straight year, the Freedom Foundation is sponsoring an awareness-raising program in which Santa Claus informs government employees in Oregon of their right to give themselves a valuable gift this holiday season (holiday raises) by opting out of union dues and paying a reduced agency fee instead.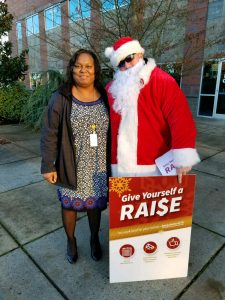 Holding signs titled "Give Yourself a Raise," Jolly St. Nick visits government offices in Salem to speak with government employees and distribute educational material about Abood v. Detroit Board of Education, the 1977 U.S. Supreme Court decision that allows them to opt-out of paying for their union's political expenses.
Many employees are shocked to learn that their union spends between 20-30 percent of their dues each year on political causes – and they're equally grateful to learn they can do something about it.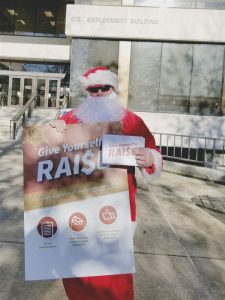 For employees wishing to opt out and pay the reduced "agency fee," Santa makes it easy by providing a fill-in-the-blank letter they can send to reclaim their money. The option typically saves each individual between $250 and $350 per year.
But not everybody is happy to see Santa.
As excited as government employees are to learn about their constitutional right to save hundreds of dollars of their hard-earned money that would otherwise be spent advancing their union's hard-left political agenda, union bosses are equally as bent on suppressing the news.
Union operatives opposed the Santa program last year by ironically passing out "Scrooge" flyers intended to smear the Freedom Foundation and prevent government employees from claiming their raises. This year, they've reportedly targeted Santa with a slew of verbal insults.
Needless to say, the unions' negativity has failed to dampen Santa's holiday cheer or the employees' positive reaction to his opt-out message.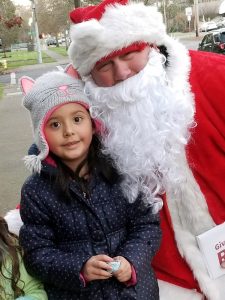 And it won't, even after the holiday season ends. Although Santa only delivers gifts once a year, the Freedom Foundation's campaign to inform public employees of their constitutional rights is ongoing. Through door-to-door canvassing, TV ads, social media outreach and an informational website, employees can learn about their constitutional rights any time of the year.
It's also worth mentioning that while Oregon's public employees can currently only opt out of the "political portion" of their union dues, the U.S. Supreme Court's is expected to rule next year in Janus v. AFSCME that employees can opt out of paying any union fees.
Imagine the reception for Santa then.