(Seattle, Wash.) — On Monday, a three-judge panel of the Ninth Circuit Court of Appeals in Seattle will hear arguments in two federal lawsuits against unions brought by the Freedom Foundation in partnership with the National Right to Work Legal Defense Foundation. Plaintiffs in both cases are unionized home care providers. One case is the first of its kind to reach a federal circuit court and both are nationally significant.
Fisk v. Inslee
The first case, Fisk v. Inslee, No. 17-35957, was filed in October 2016 as a class action on behalf of home caregivers who provide assistance with activities of daily living to Medicaid-eligible elderly and/or persons with disabilities. All caregivers must be represented by the Service Employees International Union Local 775 (SEIU 775).
The U.S. Supreme Court ruled in 2014 in Harris v. Quinn that forcing "partial-public employees" like caregivers to pay union dues or fees violated the First Amendment of the Constitution. SEIU 775 responded by inserting irrevocability provisions into the terms of its membership forms, making it nearly impossible for caregivers to stop the union from collecting dues from their Medicaid payments.
The Freedom Foundation contends the caregivers cannot be held to the irrevocability provisions in the membership forms because they were not informed of and did not understand that dues payment was optional and that agreeing to pay involved waiving their First Amendment rights.
"These irrevocable membership forms are just one of the many ways SEIU 775 and the state of Washington under Gov. Inslee have attempted, for political reasons, to take advantage of caregivers serving the most vulnerable," said Freedom Foundation senior litigation counsel James Abernathy, who will argue the case Monday.
In October 2017, the U.S. District Court for the Western District of Washington upheld SEIU 775's membership forms as legally binding, but the U.S. Supreme Court's decision in Janus v. AFSCME, issued June 27, 2018, bolstered the caregivers' position.
"Janus effectively places the burden of proof on SEIU and the state to show these IPs knew of their rights and still voluntarily agreed to waive them by agreeing to pay the union. Except that's not what happened," said Abernathy.
"It's both unconscionable and unconstitutional, and we look forward to seeing our plaintiffs receive the justice they deserve."
An appeal to the U.S. Supreme Court is likely regardless of the outcome at the Ninth Circuit. Should the plaintiffs in Fisk ultimately prevail, it will have significant repercussions for unions representing public employees around the country, as many government unions followed SEIU's lead and added similar irrevocability provisions to their membership agreements.
Fisk is the first case challenging the validity of these types of union membership agreements to reach a federal circuit court.
Mentele v. Inslee
The second case, Mentele v. Inslee, No. 16-35939, was filed in March 2015 on behalf of four family child care providers who provide home-based child care to low-income families who qualify for state assistance through the Working Connections program.
Instead of challenging union dues collection, the child care providers are challenging a state law allowing SEIU Local 925 to serve as the "exclusive bargaining representative" of all providers in Washington. As child care providers' exclusive bargaining agent, the union has the sole right to negotiate with the state over the terms of providers' employment and to speak to the state on providers' behalf. The terms of the collective bargaining agreement (CBA) negotiated by SEIU 925 and the state every two years are binding on all providers in the state, regardless of whether they are formally members of the union.
The child care providers believe that being forced to accept SEIU 925 as their representative amounts to compelled association in violation of the First Amendment. Being forced to acquiesce to SEIU 925 as their designated representative in dealings with the state further infringes their First Amendment rights to freedom of speech.
As in Fisk, the U.S. District Court for the Western District of Washington dismissed the child care providers' claims in October 2016, after which providers appealed to the Ninth Circuit.
"We believe it's unconstitutional to force these home-based child care business owners to associate with a union they think is working against their interests and to have to permit that union to speak to the state on their behalf about state regulations, bargaining matters, and other issues they care about," said Abernathy.
"These child care providers are perfectly capable of speaking for themselves, and should be free to do so without going through SEIU."
Like Fisk, Mentele may be appealed to the U.S. Supreme Court regardless of the outcome at the Ninth Circuit.
Milton Chappell, staff attorney for the National Right to Work Legal Defense Foundation, will argue Mentele.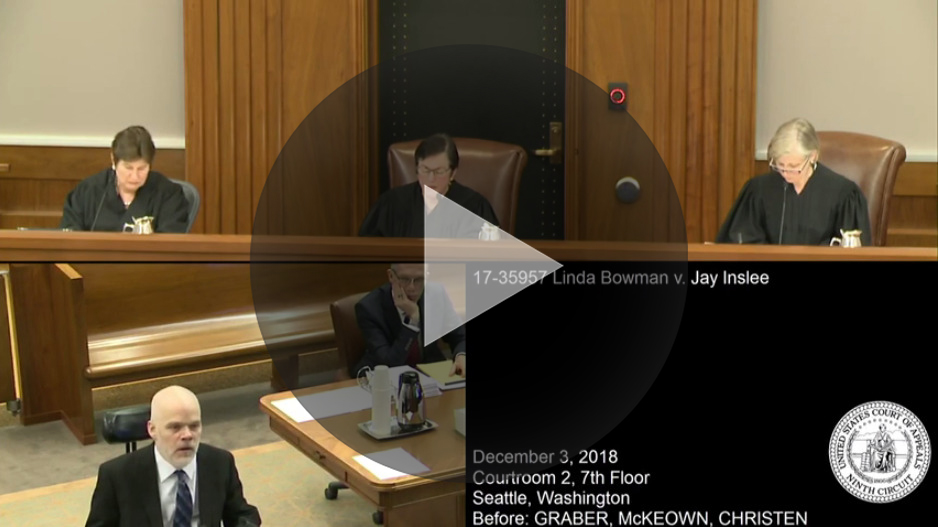 Contact:
Maxford Nelsen (Wash. state-based)
Director of Labor Policy
mnelsen@freedomfoundation.com
(360) 362-3991
Ashley Varner (Washington, D.C.-based)
Vice President of Communication and Federal Affairs
avarner@freedomfoundation.com
(434) 326-4183