Shortly before the Fourth of July holiday, the Freedom Foundation conducted a special outreach effort to public employees in honor of the one-year anniversary of the U.S. Supreme Court's ruling in Janus v. AFSCME, which struck down mandatory union dues requirements for public employees as unconstitutional.
As part of the effort, Freedom Foundation staff visited government office buildings across the West Coast to distribute informational pamphlets and speak with public employees about their First Amendment right to leave their union.
In Oregon, Freedom Foundation staff helped employees celebrate the "Janniversary" with coffee and donuts. Meanwhile, in California, SEIU organizers harassed several Freedom Foundation canvassers.
And in Washington, Freedom Foundation staffers were ejected from a state agency building, effectively suppressing our right to engage in free speech about a U.S. Supreme Court decision protecting freedom of speech.
During the lunch hour on June 27, three Foundation staffers, including myself, went to the Washington Department of Labor and Industries (L&I) building in Tumwater. We checked in at the front desk, telling the receptionist we intended to distribute nonpolitical, noncommercial informational material to employees and asking if the hallway outside the building cafeteria was a public space we could use. She told us that would be fine and said we could proceed.
Accordingly, we began handing out pamphlets to people entering and leaving the cafeteria. Some took the material, others refused it, some told us they had already opted out, and others engaged us in brief conversations.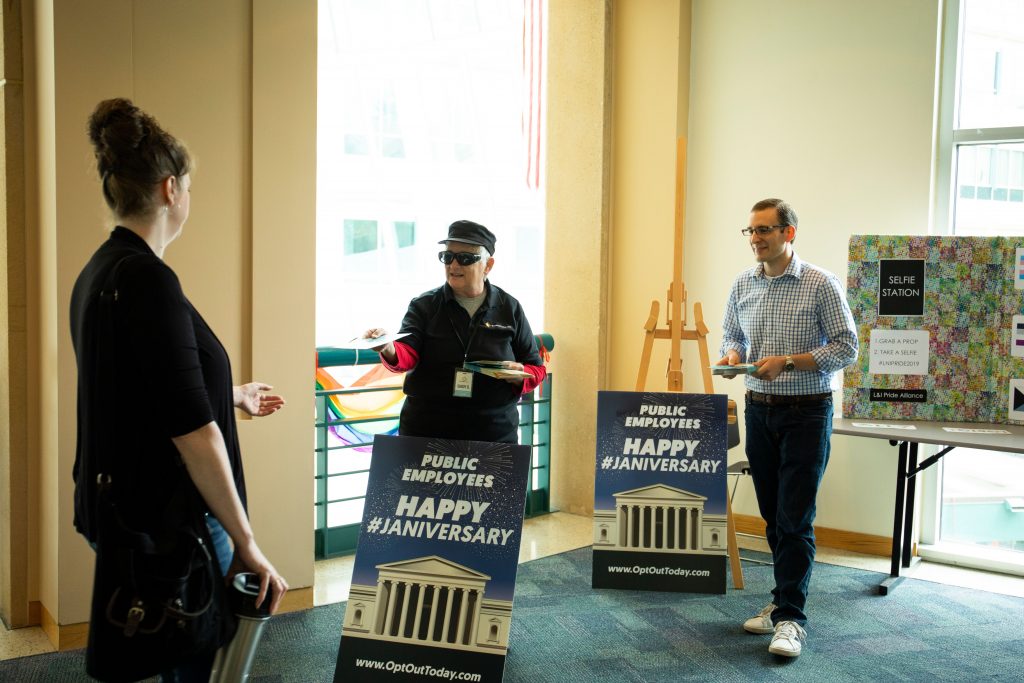 After about 10 or 15 minutes, a Washington State Patrol trooper approached and asked what we were doing. We explained we were distributing noncommercial, nonpolitical informational material about public employees' constitutional rights. We let him know that we had checked in with the front desk and had been informed it was permissible for us to distribute pamphlets outside the cafeteria. The trooper gave us no indication anything was amiss and told us we could proceed.
About 15 to 20 minutes later, as we were running low on pamphlets, we were approached by two women from the human resources department accompanied by 3 to 5 Washington State Patrol troopers.
The women asked whether we had submitted an application to distribute pamphlets. We explained that, although we hadn't submitted an application, both front desk and security staff were aware of our activity and had confirmed our right to be there.
They replied that department policy required us to submit an application. When pressed, though, they admitted we were, in fact, in a public area of the building. Nevertheless, they insisted we leave the premises immediately, which we did.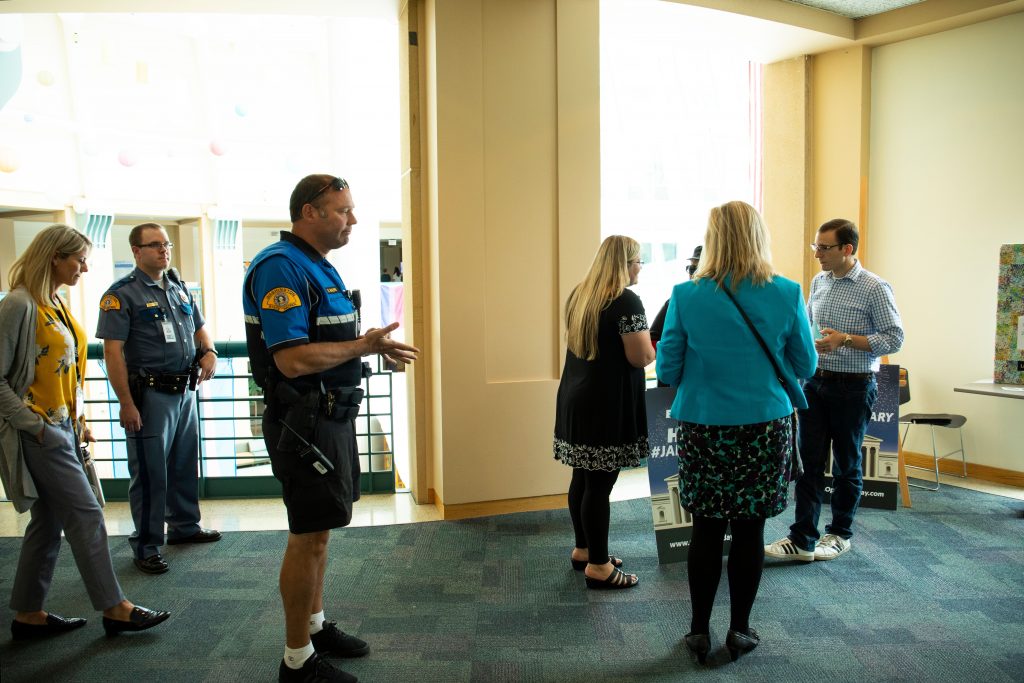 This isn't the first time Freedom Foundation staff have been booted from state agencies for engaging in free speech in the lobbies of taxpayer-funded facilities.
In July 2018, the Freedom Foundation filed suit against the Washington State Department of Ecology in federal court after it kicked out staffers dressed as Santa Claus distributing informational material to employees the previous December.
Unfortunately, L&I has chosen to continue this pattern of unconstitutionally suppressing speech it doesn't like while going out of its way to facilitate union speech of which it approves.
Like the Department of Ecology, L&I may soon be defending its actions in federal court.